Welcome Letter
I am thrilled to have the incredible opportunity to serve as president of Clemson University, and I am eager to get started in January. I deeply appreciate the warm welcome and good wishes that we have received from members of the Clemson family. Their passion and love for this university is obvious – and it is contagious!
I have been a follower and admirer of Clemson for many years and have actually based a number of initiatives at Towson University and West Virginia University on Clemson models. Having the opportunity to lead this great research university – which is one of the most outstanding land-grant public institutions in the country — is both exciting and humbling. I know that Jim and Marcia Barker will be a very tough act to follow, but I promise that we will do our best. We will rely heavily on their advice and guidance in the years to come.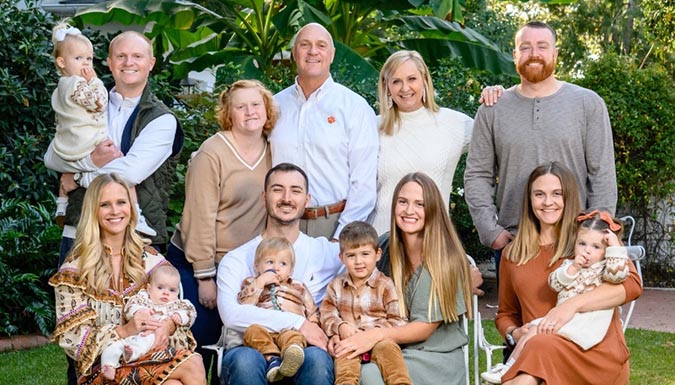 For those of you who were not able to be present when the Board of Trustees announced their selection, I would like to introduce the Clements family. First, my wife, Beth – who is beautiful in every sense of the word. She is a great wife, a great mother and a great first lady. Our son Tyler is 21 and in his fourth year at WVU, studying a combination of business, leadership and political science. Our 18-year-old twin daughters, Hannah and Maggie, are freshmen at WVU – Hannah studying special education and Maggie majoring in elementary education. I should mention that their mother is a former teacher, so they have obviously had a great role model. Finally, our 13-year-old daughter Grace is a seventh-grader and the joy of our life.
Our extended family includes many Clemson connections: Two of Beth's brothers and a sister-in-law are Clemson graduates. My brother-in-law, Greg, serves on the advisory board of the Spiro Institute. The Championship Awards Room in the golf clubhouse is named for Beth's parents – Clif and Priscilla Smith.
I enjoyed and learned much from my meetings with faculty, staff and student leaders. Clemson is clearly blessed with strong leadership of these important constituencies. Over the next few weeks I will be visiting by phone and in person with many of you as I begin my orientation. Now that I have an official Clemson email account (president@clemson.edu), you can contact me directly if you have ideas or information you wish to share.
I look forward to working with the trustees, faculty, staff, students, Extension agents, alumni and our many partners in government, business, industry and communities all across South Carolina to help Clemson achieve its goals. I also look forward to cheering for the Tigers in all sports, enjoying performances at the Brooks Center and taking advantage of Clemson's beautiful campus and surroundings.
Clemson is a great university with a great history – and a great future. It is truly a gem in higher education. I promise you that I will do my very best – working with you — to fulfill the vision set forth by Thomas Green Clemson.
Go Tigers!!!